First of all, we thank you for choosing HosterPK for your web hosting needs.
Prices Increase Notification:-
This is to inform you that effective 1st of Jan 2018, we will be updating prices for our web hosting packages and domains. Complete list of new pricing for each product is listed below.
Why are prices being increased:-
Our last price adjustment was back in 2013 when the 1USD was around 98PKR. Currently not only USD rate has gone up, our other business costs have risen considerably.
As we purchase the servers and domains from upstream providers in USD but our prices are in Pakistan rupee, any devaluation in PKR to USD affects our profit margins. Together with increasing business maintenance costs we had to revise the prices to provide same level of support and services.
As you know well, we have never compromised the quality of our products even in the hardest of times. We endeavour to keep going with the agenda of excellent quality and for that an increase in price was a necessity.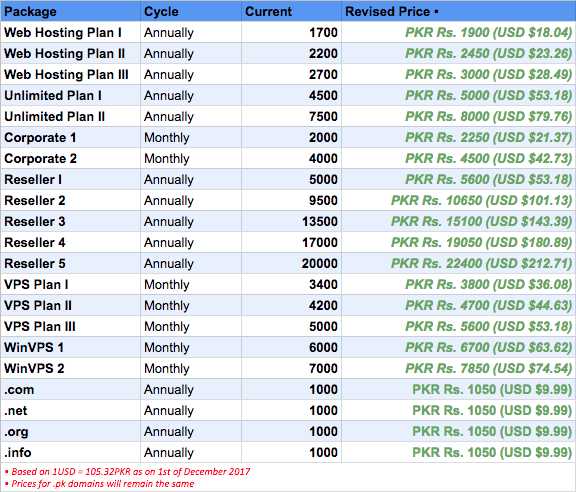 Important Notes:-
As we purchase the services in USD, devaluation of PKR affects our costs, so we are moving to USD based pricing (as listed in table above), however the invoices will still be in PKR. If there is too high PKR devaluation, the prices will be adjusted accordingly automatically.
We are already in process of upgrading all our servers to better and more robust hardware with SSD, SAS drives. However our Windows servers still need some work. So for now the prices for the Windows plans will not increase until the issues are fully resolved.
We are also planning to include Backup service as package feature free of cost. Currently it is offered as courtesy service.
We thank you for your cooperation and appreciate your understanding for the necessity of this price increase.